TEAM STUDIO: JC Studios celebrates 2 years!!! A TeamSpider reunion special???
Team Studio:
A super RARE Spotting of the majority of team spider members together
for the first time in years at the JC STUDIOS "2 Year Anniversary" party.
$AM / XRIS / JUGGY D
The wickedly awesome,
as they'd say in Bawstun
, recording/rehearsal/art owned and operated by Team Spider-members $AM & JUGGY D.
To properly ring in the 2nd Birthday of the spider'rific locale,
JC Studio's reception / lounge / kitchenette was decked out with turntables and a full bar
serving the finest beats and spirits absolutely free,
save for the pouty lipped guilt stare of bartender Justine if you skipped the tip jar, which we hope you wouldn't.
Justine mid beyatch-slap to a non-tipper






Frequent cell phone checking occurred and no labor took place, which is good as parties are for creating' , not working. Xris' appearance did result in an overheard comment by a Team Spider superfan in attendance who said "Does this mean (drummer) Oscar is going to walk in the door next and my (team spider reunion) dream is going to come true?"
Monday, May 27, 2013
Hyperbole and a Half: Depression Part Two
Hyperbole and a Half: Depression Part Two
Amazing description of depression.(above )
We lost one of our founding Team Spider members, Eric Kammer, to suicide.
His death inspired the song and recording of Wait For The Dawn, on what became the "no cash split",
It is a serious situation when someone wants to hurt them self. Be sure to watch for your friends, I wish Eric had waited to see the sun, whether he could have felt it at that point or not, I am sure he would have felt it today
Friday, March 29, 2013
free speech, free stza, free donuts
--free speech, free stza, free donuts FREE! FUCKING! SPEECH! RALLY SAT. Sept 27th, 2008 2-6 PM –FREE— TOMPKINS SQUARE PARK ( live music by Star Fucking Hipsters, 2-Man Advantage, Joe Coffee, Wombat in Combat, Xris Spider,.. more ) -A Reaction to a Reaction to a Reaction- ----------------------------------A BRIEF HISTORY--------------- Against all odds and seemingly insurmountable douche-bag'ism, the East Village and Lower East Side artists, residents, patriots, anti-patriots, old, young, people of color, and all those who "haven't gone anywhere" hold down the fort of Lower Manhattan until the great even'ing. Sometimes these stubborn world citizens have cautiously raised their voices… successfully holding political rallies and concerts. That was UNTIL, a NEW Weapon was unleashed upon the masses of non-masses: -------------------------------THE DECIBEL METER….. The latest cowardly Attack on Free Speech comes in a device that seems as innocent as a Tazer, but far more dangerous. The Tompkins Square rallies and concerts, often containing un-popular speech dating back to the 1800's, are now being selectively shut down when they reach levels of 70db at 100 feet ( or approximately 5 words of dissent per minute). By comparison, a vacuum cleaner generates 70db of noise as far as 25 feet away, and a passing city bus easily sends the decibel meters over 70 db at almost any time. Ironically, the crowd applause level after a song or speech at these events is usually loud enough on its own to allow the dream police to shut the entire event down. While the similarly amplified Charlie Parker Festivals, bag-searched screenings of Batman Begins, and H.O.W.L. festivals seemingly only generate 100+Dbs of more pleasing speech. Can the NYPD, in the midst of a bicycling crisis and fake election year, afford the resources to send enough officers to physically hold the decibel meters, shut down concerts, and taze teenagers…? Sadly, read on ------------------------------------- CURRENT EVENTS---------------- On SUNDAY AUG 3rd 2008, At last months' 20th Anniversary of the Shameful Police Riot in Tompkins Square, the scheduled Concert/Rally was forced to turn the "volume" down and down and down again by decibel meter holding officers, to the point where no one could make out much of anything. The electric bands eventually being completely shut down, the Hungry March Band swooped in like avenging angels and continued to perform in no-electricity-required glory. As a result, the desperate police, with no plugs left to pull, cowardly imposed a $1500 fine and promises to the organizers that more fines would be arriving by mail. --------------------------------------NOT IN FRONT OF MY HOUSE---------------- On FRIDAY SEPT. 5th 2008 As a reaction to the this -Selective Enforcement- of ridiculous, unconstitutional, police determined laws, levels and regulations, a concert was held DIRECTLY OUTSIDE the East Village's 9th Precinct. Although the organizers made every effort possible to reduce the officers' commute time, making their efforts to destroy free speech as exercise-free and exertion-free as possible, all the participants interested in FREE SPEECH, instead of FREE DONUTS were still met with a heavy hand. Each subsequent musician and political speaker was forced to turn down to lower and lower volumes, until the rally devolved into a simple unplugged Sing-A-Long. The climax of which found an acoustic guitar wielding Stza Crack ( possibly not his real name ) leading the crowd through songs that would have made Pete Seger and Woody Guthrie proud. Assuming they would find pride in the fact that their legacy is now continued on in the form of troubadour singing about burning churches, killing cops and smoking crack. ----------------------------------DOLLARS FOR DONUTS--------------- At the end of Mr. Crack's set, someone in the crowd handed the modern son of Dylan a box of donuts, which in a disgustingly wasteful manner, may or may not have ended up being individually hurled in the direction of law enforcement professionals, who were reported to be watering at the mouth. What their mouths were watering for is still unconfirmed, but this act was the final tasty straw for said city employees, who spent the rest of the evening leading a city-wide canvas in order to capture Mr. Crack. The elusive yet public figure had slipped away after the concert by brilliantly changing from one completely black outfit, to a different completely black outfit, assuring his escape from the detail oriented detectives. -------------------------------TAZERS INTRODUCED, NOT RECEIVED WELL------------ Fortunately Mr. Crack, ( again, name unconfirmed) was later found in Tompkins Square Park, unapologetically strumming his acoustic guitar and was quickly whisked into a Police Cruiser heading to the Tombs. Soon a bevy of young fans were tazed and arrested after laying in front of, jumping on, or dumping trash on the cruiser. Realizing the futility of "telling the officers to not taze them", the youths accepted the punishment, though not completely in silence, if ones counts the screeches of pain. The music / constitutional law / surrealism fans were soon hauled off to jail along with the cop killing, donut throwing, church burning Mr. Crack, who somehow, despite all these felonious activities, had managed to escape arrest for all these years. This SAT: the SAGA CONTINUES…. Tompkins Square, It's Everywhere -Xris Spider. More on INFO on this weekend's FREE!FUCKING!SPEECH! CONCERT / RALLY, VISIT: http://www.myspace.com/slidingscaleproductions For Photos/Videos/ & more detailed accounts of recent Jelly Glazed Donut related events, VISIT: http://www.teamspider.blogspot.com Shhhhhhhhhhhhhhhhhhhhhhhhhhhhhhhhhhhhhhhhhhhhhhhhhhhh
Monday, September 12, 2011
"9-11 BY BIKE" 10 year old Team SPider TV tape unearthed
I shot this footage as the chaos was unfolding. I never labeled the tape, and until today, the 10th anniversary of 911, I never watched the footage. It features me, ( xris Spider) Dave, ( juggy D spider ), my lil Bro, and our neighbors at the Ave A. apt where TeamSPider was born...
In honor of the innocent lives cut short 10 years ago, and nearly every day since, i have cut together this video which captures the day.
Let us remember that those who were able to express themselves before perishing thought about love, not vengeance. Vengeance is what likely killed them. In the days since, we have bombed countless people. Perhaps it is time to lead by example, not misguided retaliation and greed.
JUSTICE ( does not equal ) VENGEANCE
----PS. new tunes to rise from the ash very soon..
Labels: 911 bike tape jumpers
Sunday, January 23, 2011
AMERICAN IDIOT - a review
So, the fates bestowed me with 2 front row seats to Green Day's American Idiot play, which seemed like a solid enough mind-less night out. But when Billy Joe Armstrong, who is currently performing in the "musical" ( more on the quotation marks later ), spotted bandmate Mike Dirnt in the crowd several rows behind us and called him onstage… i thought maybe i should bust out my eyeFone and roll off some megapixels for the kids who missed it.

So here it is…
Billy Joe, Mike, and the unfree cast of glee, performing GOOD RIDDANCE/ Time of Your Life




I am not a reviewer, and perhaps I should leave that to the professionals, but since everyone is going to be asking me what i thought, i figure i should work it out on the idiot-net before i actually condemn or praise it to people who actually exist.

On the whole, I'd say that everything, from the cast, to the lights, to songs, to the costumes, to the set, made me sad. It relaxed me and tantalized my senses enough to give the feeling i am floating in the womb, not a care in the world, enjoying the stobe'ing tv sets, handfuls of glitter tossed by Billy Joe from his pockets (when he finally did appear), and feeling like everything is alright in the world, but then i realize I am not in this world, everything is colorful, characatured, and enunciated, except me. Which is basically how i felt in high school, and the reason i never joined the Glee club, or young Republicans, or any of the other clubs which i suspect were all held in the same room at the same time anyway. So, to be fair, i am not sure I could ever really truly enjoy a mindless punk rock musical spectacle, or a mindless spectacle of any sort, whether it be Nascar or Fireworks, I'd have to be pretty high on something to enjoy the moments between people catching on fire. So, just as I could probably not get too psyched up for a job putting together Nikes or stock portfolios, even though I'd like to think I could try, the reality is that if i ever went back in time to do High School 'right' this time, I'd still mess it up and have to face the reality that, as the prophet Dee Snider said, "I am, I'm me."

And that "me" finds himself sitting front row in a "play," that doesn't seem to have a lick of dialogue, posing as a musical that doesn't have a single sing-songy narrative, and in truth is probably more accurately described as a musical revue, sung by random interchangeable glee club members posing as 2-dimensional characters, occasionally joined by the guy they are all barely imitating. That in itself is so surreal, that I almost have to give it 11 stars. Perhaps your life will NOT BE COMPLETE unless you experience it. It will break you down to your core essence, like the bastard child of Freud and a Drill Sergeant, make you face the sad pathetic loser mess faggot conservative dreg that you are, and rebuild you into the perfect man or woman that Dee Snider's great great great grandfather Jesus wanted YOU to be. And it only co$ts 60-127 bucks.

You'll see characters appear for one song, and disappear never to be seen again ( except outside after the show looking to give out autographs ), you'll see characters who are set up to be main characters whom can easily have both their personality, and entire life experiences replaced by two or three cardboard cutouts. Example, cardboard cut out 1. Punk kid with sharpie drawn Black Flag tattoo, 2. the same kid in desert camo uniform, 3. same kid with a prosthetic leg, THE END. And that's 1/3 of the entire cast / "plot" / and show. Feel like more? Well i should charge you ( $127 divided by 3… ) oh what the heck, i'm feeling generous, picture three more cardboard cut outs: Not so punk kid on a couch, same not so punk kid with a pregnant girlfriend, same kid there without pregnant girlfriend, THE END, oh shit, did i just give away 2 thirds of the play? Do i have any more cardboard cut outs left? hmmmmm, Boba Fett, no, Princess Leia, no, oh wait here's three more: Least punk rock kid of all laying in bed, Least punk rock kid of all shooting dope with a girl in bed, Least punk rock kid of all working a suit and tie job… oh shoot, he may actually need four cardboard cut outs, no wait, we can just use the first one again, stand it next to the other 2 guys' third card board cutouts for the big reunion, and… THE END

Thats it. No lines, no growth, no insight, no character, no wit, no chemistry, no mustard, no mayo, no horsey sauce, a plain Lenders bagel, barely defrosted. Surfing upon some randomly strung together mix tape of Green Day songs desperately pretending to represent the characters'… i don't know what, essence? Even the songs, the true heroes upon this battlefield pitting fake plastic brother against fake plastic brother, sisters old enough to be their mothers, and inexplicably large choral groups ( guess that ticket price has too appear to pay for something ), these seemingly indestructible super soldiers of pop infiltration, domination and decimation, limp back missing limbs, sexual organs, and in the case of one song, which shall remain unnamed until his album can be notified, has been reduced to a blind mute quadrapalegic who can only communicate in morse code, incessantly nodding out the message "kill them, kill them, kill them." A selfless act that will be remembered long after we have all died, natural causes or not, by those who remember the few this nation can truly refer to as heroes.

As a kid, I remember hearing the critics of the first Star Wars movie say that you could fit the entire story line on the head of a pin. Well, in this case you could fit the entire plot of american idiot on the three periods after "in a galaxy far far away…" right on that same old pin. And there's no Wookies. Not one. Punk kid on a couch looks like a young Brandon Frasier, but that is no fucking substitute for a Wookie. And unless Han Solo's witty lines happen to have already appeared as lyrics in some early George Lucas pop single, they aint in this version of the pin head. In fact, if you just laid a bunch of space ship explosions and shots of Luke and Leia kissing over the disco version of the Star Wars theme song for 1.5 hours with no intermission, you'd basically have American Idiot. But you'd NEVER know they were actually brother and sister, and yes that might help you might grow up to be somewhat normal, but you'd be living a lie.

On a positive note, Billy Joe Armstrong is still a strong strong vocalist with a time honed, distinct and original signature style, and can pretty much do no wrong in this setting. He walks through the entire debacle like a god walking on the earth he created and appears to be having the time of his life, not to mention making a mint in the process. Who can fault him for letting this wild hog run loose, everyone in the audience seemed to feel they got more then their bottom dollar's worth and lined up to spend additional duckettes on keychains and posters on the way out. In a perfect world live drums and Marshall half stacks would be the centerpieces of every play I ever end up attending, but for now, i guess it's just this one. And theres no denying this is a real crowd pleaser, i'm just still not comfortable in the real crowd.

Guess I'd better write or direct my own musical. Till then, enjoy this one if you can.



PS. BJ, if you are reading this, I am available to rework this entire shindig if you get tired of unbridled success, OR, better yet, lets start from scratch and do a new one… If it's true that ya gotta get in to get out, your are now so in, we could surely rub one out.
see ya.
( chickenman has my # )
Xris
Monday, August 09, 2010
REVOLUTION (and CLIENT) #9
So, Tomorrow, TUESDAY August 1oth 2010, is the big public hearing regarding NYC's infamous home-made Community Gardens. The delicious little snippets of nature scattered throughout the city, tended to by the communities which they both inspire and calm, and saved by Elliot Spitzer "''needle -- sCKRAtch noise:'"" what wha wha?
Yes the "Sheriff of Wall Street" and infamous "CLIENT #9" was one of the many to rush to the aid of the gardens, but Spitzer was so helpful in this case, they deemed him Client #1, and named the bill / act / legislation after him! Good times, before falling 8 places in the charts...
Also, very helpful were Bette Midler, and 1 or 2 community activists who never bothered to make a record, movie, or high class hooker scandal, so we won't mention them ever....
oh what the heck: TIMES-UP!
Yes, those pesky garden loving, bike riding and very sexy sexy dancing Times-up! activists were part of the SOLUTION 10 years ago, and they are at it again...
Here are some videos, of preparing for tomorrow's big day...
including some original Seth Tobacman art / living demonstration poster power...
so, we will get up early.. ( 11am.. why so early !?!!?)
and go check it out, and report back... we expect to see Reverend Billy, those Times-up hotties ( especially BILL !), NYPD, and many more
Hand out the Save Our Gardens events, download at
https://docs.google.com/fileview?id=0ByzH_2QPmcBVNGY2MDZkOTMtZjY0ZS00NTVkLWI0ZDgtZTkwZjczNWY3MzBh&authkey=CJyI32U&hl=en
more on seth tobacman art at
http://www.mediasanctuary.org/node/192````
Labels: gardens NYC activists eliot spitzer times-up sexy dance
Saturday, May 29, 2010
SUNDAY - BIKE NOISE 3 is on!!!! ( tompkins sq)
cool new shirts by FLY
available at the Show... buy one, whereever you are, and support the FREE tompkins Square Park shows...
we will mail it to you..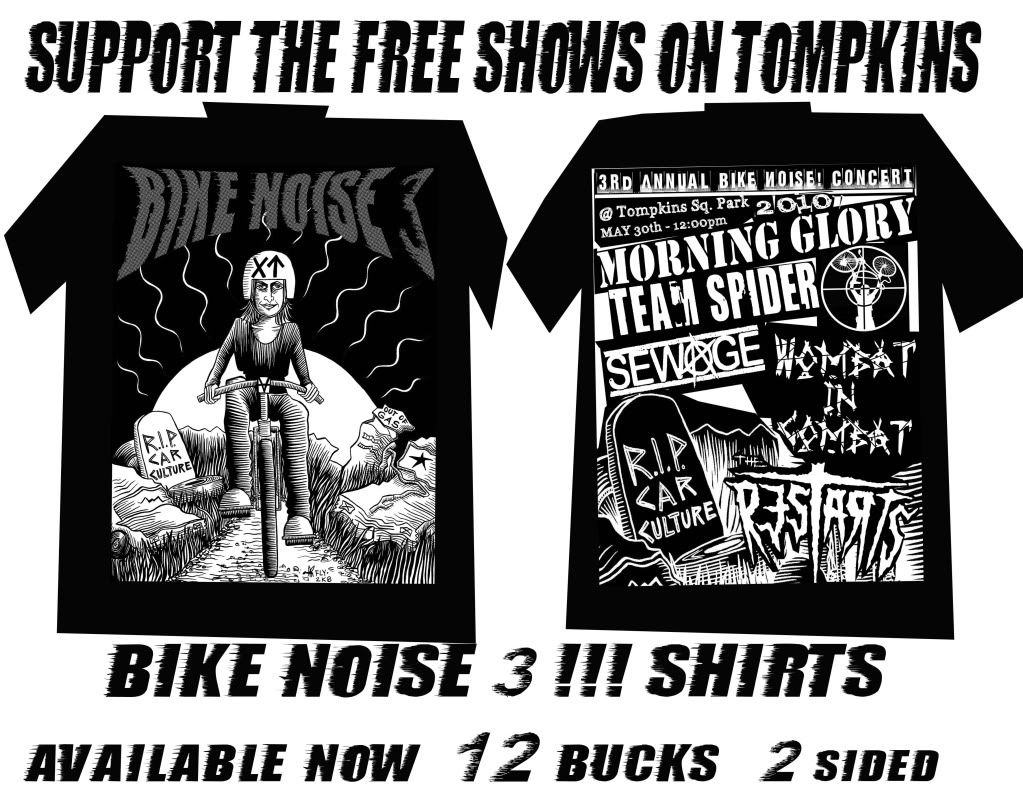 see ya SUNDAY
========================
Sunday May 30th 2010, it's BIKE NOISE 3!
========================
the third annual musical celebration of bikes on Tompkins Square Park, NYC
FREE! 2-6PM ....just follow the noise
featuring Speakers, Literature, Community, Live Bands, and best of
all.... BIKES!
This year's bands have come from as far away as ENGLAND, ( the
Restarts 2:45pm), and "UPSTATE"
( SEW@GE 2pm)... as well as local Bike Punx ( Team Spider 4:15pm &
Wombat in Combat 3:30pm) and the recently reunited (Morning Glory
5:00pm ) featuring members of Leftover Crack and World Inferno
Friendship Society
Last year there were bikes in the former band shell area mosh pit, so
be prepared to stage dive off a tall bike, and RoK OuT With Yer LoK
out!!!
Show is over at 6pm sharp... so dont be late
ride yer bike!
SUNDAY- May 30th Bike Noise 3 is on!
cool new shirts by FLY

available at the Show... buy one, whereever you are, and support the FREE tompkins Square Park shows...
we will mail it to you..

see ya SUNDAY

========================
Sunday May 30th 2010, it's BIKE NOISE 3!
========================
the third annual musical celebration of bikes on Tompkins Square Park, NYC
FREE! 2-6PM ....just follow the noise

featuring Speakers, Literature, Community, Live Bands, and best of
all.... BIKES!

This year's bands have come from as far away as ENGLAND, ( the
Restarts 2:45pm), and "UPSTATE"
( SEW@GE 2pm)... as well as local Bike Punx ( Team Spider 4:15pm &
Wombat in Combat 3:30pm) and the recently reunited (Morning Glory
5:00pm ) featuring members of Leftover Crack and World Inferno
Friendship Society

Last year there were bikes in the former band shell area mosh pit, so
be prepared to stage dive off a tall bike, and RoK OuT With Yer LoK
out!!!

Show is over at 6pm sharp... so dont be late

ride yer bike!